Flat roofing has a life expectancy of 30 years+ with the quality assured products we use
SERVICES
Here at Skywalkers Roofing we provide a variety range of services. Some of these include:
Flat Roofing
Re-roofing
Pitch Roofing
Roofing Repairs
Gutter Work
Valleys
Lead Work
Our experienced staff are positive that they will provide you with a service that is second to none.
We will work with you to make sure your roof design is exactly how you want it. We use built-up felt roof systems for our flat roofs as they are a traditional flat roof system used across the UK.
This is built up using multiple layers of high performance felts and mastic asphalt. We ensure that we only use the highest quality materials so that your roof has a long life.
These roofs are also available in a range of colours to keep you home looking exactly how you want it to.
We can provide these roofs on any building from garages, homes and sheds. We are so confident that your roof will have a long life span that all our flat roofs come with a 10 year guarantee.
Our roofing specialists can show you images of materials and colours we have used for previous customers. This may make it easier for you to decide how you want your home to look.
FLAT ROOFING REPAIRS
Roof repairs should be dealt with immediately. This is important because the problem could worsen quickly resulting in a more expensive repair.
If you notice your roof needs repairing contact our team of specialists who can explain to you what the problem is so you understand and also explain to you what we need to do to fix it along with how much it will cost.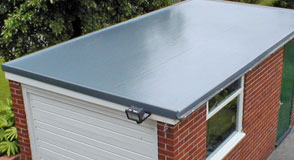 Roofs are always built to last however, sometimes the weather may deteriorate them. In this case we can re roof it for you in a material and colour of your choice.
We also provide guttering services. It is important for your guttering to be kept in good condition to keep your property weatherproof.
As well as providing you with a brand new guttering system we can also clean and unblock your current one if you don't need a new a whole new one, keeping the cost lower.
We are certain that when we finish a job, you will be satisfied and pleased with the overall look of the service we have carried out for you, along with our customer service we would have provided you with.
Call us today for a free quote on 0117 9629835 or 07817 095152.
IF YOU ARE CONSIDERING A FLAT ROOFING SYSTEM CALL SKY WALKERS AND WE CAN ARRANGE TO CARRY OUT AN INDEPENDENT SURVEY. WE CAN THEN OFFER YOU A NO OBLIGATION FREE QUOTE AND ADVISE YOU OF SUITABLE MATERIALS FOR YOUR INDIVIDUAL REQUIREMENTS.